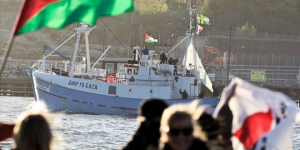 Photo by: Joran Fagerlund
Dear journalists:
The women's Boat to Gaza (WBG) is a Freedom Flotilla Coalition (FFC) initiative that will sail this September to challenge the Israeli blockade of Gaza. For more info about WBG please visit:
https://wbg.freedomflotilla.org/faq and see our latest press statement (https://wbg.freedomflotilla.org/news/womens-boat-to-gaza-presented-at-the-european-parliament), released after our meeting with and receiving support from many Members of European Parliament in Brussels last month.
The Women's Boat to Gaza is an all-women mission where the boats will have only women on board: the crew, activists and prominent people sailing in support of the Palestinians of Gaza, as well as the journalists covering the voyage.
On board there will be a Nobel Laureate, Members of Parliament from different countries, Members of European Parliament, other eminent women and activists from over a dozen countries. This is an opportunity to share the stories and wisdom of Palestinian women in Gaza and the women of the world who support them. We aim not only to break the physical barriers of the blockade, but also to break the media silence and help the voices of Palestinian women in Gaza be heard.
We are inviting interested women journalists (visual, audio, written) from various media organizations worldwide to join the mission. If you are interested please send your CV to delegates.wbg@gmail.com, specifying what support you can count on from your media organization, if any. If you have any questions or would like more information, please do not hesitate to contact us at the same address.
Please note that space is limited so you are urged to contact us without delay if you are interested. Deadline to receive applications is July 30, 2016.
WBG Steering Committee
5661 Total Views
4 Views Today